If you're an eager beaver and you're already planning next year's marketing calendar then this is the post you've been waiting for. We're talking about the real estate marketing things we're going to be putting more stock into this coming year. We're also sharing tips on how to stay relevant, but more importantly, tips on how to stay consistent! 
Our customers benefit immensely from consistency and it is, without a doubt, the secret sauce that most are missing when it comes to formulating their marketing plans. 
Keep reading for tips on how to put your business first and better your return on your time in 2022!
What are we going to do more of in 2022?
Less is More 
This is one we've been preaching for a while and if you're an EstateVue MWP client you already know how we feel on this topic. Less is more when it comes to social media marketing. Consistency is more valuable than spreading yourself too thin. Throughout 2021 we spent a significant amount of time with clients getting their social media channels and digital footprints consolidated into a more manageable footprint. 
There isn't a REALTOR® out there who is doing a fantastic job of managing, Tik Tok, YouTube, Facebook, Twitter, LinkedIn, Instagram, Snapchat, Pinterest, Tumblr, Google Business, and omg what else? Do you want to know why? The answer is simple, if they're killing it on alllll of the mediums above then they're more of an influencer than a REALTOR® in our opinion.  
Don't interpret this the wrong way, you still absolutely need social media for visibility. However, you don't need all of it at one time. It's not only impossible to manage but it will also dilute your customer base in many cases. 
Our pro tip is to choose three and only three social mediums to use. This will allow you to stay consistent with your posts, engage with your customers and manage your digital presence. By cultivating a presence for your customers across three mediums you have a much stronger handle on your traffic and your analytics. 
So, which mediums should you use in 2022? We have some ideas! Keep reading!
Facebook is a need, but definitely not a want
Love it? Hate it. We all hate it. We never hear anything positive about Facebook but here we are with the numbers that can't be ignored.  Facebook (META) now has 3 billion users and these numbers are still growing by the month! So the question of do I need Facebook should really be put to bed. The answer is yes, yes you need Facebook for your real estate business. Facebook will still reign supreme when it comes to raising your visibility profile.
Google Business is the Internets definition of nepotism
If Google wasn't the most used SERP then we might not recommend using Google Business as part of your social strategy. But the Internet is ruled by giants and the biggest is Google. As such, we consistently see better-ranking results from the businesses who elect to post frequently on the Google Business platform. We highly, highly recommend getting familiar with your Google Business profile. 
Update those profiles, and check your locations because Google Business is where the most relevance for your business comes in, especially when it comes to local! Many customers are unfamiliar with Google Business and how it works. Posts will show up in your listing and allow for a great opportunity to create backlinks to your website.  See below for an example: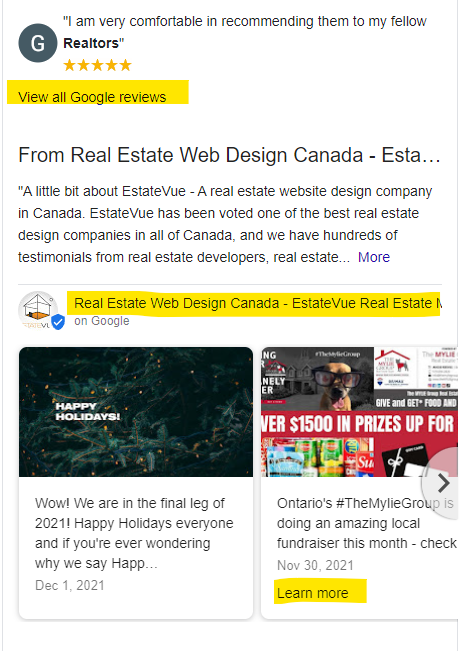 LinkedIn or Twitter for 2022?
Twitter is a big city medium. Maybe that's a bit controversial but as a company that focuses on hyper-local advertising for its customers, we have found that Twitter is almost always the underperformer in our playlist. The slow adoption rate for locals is likely the biggest barrier to Twitter's taking off. Smaller centres with populations of 500k or less just don't tend to have the enthusiasm for it.  It's great for using hashtags and gaining followers, particularly if you're attending conferences or events, but for gaining a local audience it seems to be only getting more dismal. 
That's why. We're giving up on Twitter for 2022 and instead, we will be turning our focus back to LinkedIn. LinkedIn has been steadily gaining as a preferred social media platform. They have added in a suite of new features that make it much more ad-friendly. Coupled with the closer connections it affords to local colleagues it's really a no-brainer to turn your focus from Twitter to LinkedIn. 
We highly recommend getting LinkedIn added to your social media repertoire for 2022.
Newsletters are baaaaack
Newsletters really fell out of fashion in the real estate marketing world over the past few years. Mostly because they were never consistent and partly because they were also very spammy. We're bringing back thoughtful, curated newsletters this year. We'll be sending them out quarterly at first and making certain that we have something to say well in advance. 
Email remains one of the most powerful tools at your disposal.  A valid email address is data gold. There are several tips to consider if you want to use email marketing as a marketing method in 2022.
Keep reading if you want to add newsletters to your program or you want to refresh your existing plan. 
1) Develop personalized content that matters
Give your customers the feeling of exclusivity to keep them engaged with your content. Get to know your customers and make sure that you're segmenting your customer base according to their interests. Don't send buyers' content to sellers and vice versa. Don't send first-time buyers' advice to your investors. Email marketing fails when it's used as a blanket strategy. Don't rush your email marketing and take the time to curate content based on your customers' wants. 
2) Keep newsletters minimal and concise 
Don't send out novels in hopes that everyone will be inclined to read. Keep your newsletters short and make the format very clear. Minimal design is ideal and your layout should either be very interesting and engaging or very easy to follow along. Small snippets, catchy headlines, and lots of backlinks to your website are key to making newsletters work for your business in 2022. 
The average person receives over 150 emails per day. That's a dizzying amount of communication. If you hope to stand out then don't oversaturate. Give them something to look forward to. 

Focus on consolidating your real estate marketing channels in 2022
Focusing on the foundations of digital real estate marketing is key in 2022.  It's a great time to consolidate at the start of a new year. Get rid of the social channels that no longer serve you and clean up that digital footprint. You'll feel lighter and more in control of your business. Also, try not to get distracted by those shiny squirrels as the year wears on. The newest, latest and greatest will always be around the corner, but stick to the devil you know and you'll be much happier with mastered results rather than useless, fleeting tech. 
Here's a list of wrap-up posts from some of our real estate customers in 2021! We hope to see more of you included in this list in 2002! Get in touch if you want to subscribe to our Managed Website Program in 2022, we have limited spots available in each Canadian city.
The team at Neufeld Jones has launched their year-end wrap-up on their website this month - head over to their Kelowna real estate blog to read about their year of content now!
Real estate in Vanderhoof gets the review treatment this month!
Penticton real estate gets the wrap with Brooks Lancaster over on Penticton Houses For Sale this December.
Heading up to Big White this winter? Us too. Check out real estate in Snow Pines with the Big White Property Group before you go!
Edmonton's RE/MAX Elite is getting nostalgic this month with an entire year in rewind on their blog! Check it out!
HILBERT&CRICK have a great year-end recap on their blog this month! Check out how they're looking back at Kelowna Real Estate in 2021