Opportunity Texts!
Chat seamlessly with people visiting your website via your mobile device no matter where you are with our live chat for real estate software. Leads coming from your web chat tool are now instantly funneled via text message to your phone in real time. This all adds up to you selling more and building customer relationships one text at a time.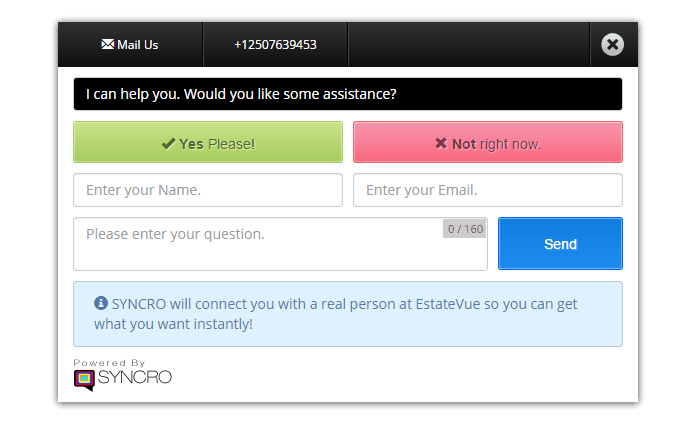 Here's What You'll be Getting:
An Attractive, User-Friendly Chat Tool
Increase in Website Leads
Better Customer Relationships
SYNCRO & Real Estate Site Integration
SYNCRO connects the mobile real estate salesforce instantly to their website leads by bridging the gap between website chat and SMS.  You can use any mobile phone and you don't need to download any apps or software. SYNCRO just works.
Think back to when you met the love of your life.  Before you even knew their name.  Did you walk up to them and hand them a 20 question form to fill out asking what their income was and when they planned to make their next big purchase?  Probably not. So why do you expect to create a meaningful relationship with your clients based on these misguided principles?  Ditch your dated contact form and build client relationships organically with SYNCRO. SYNCRO also offers basic contact forms for people who like to stick to those.
For more information on our live chat for real estate software SYNCRO and how it can tie into the IDX data, please visit the following link:
http://syncrowebchat.com/embedding-website-chat-into-idxmls-data/
Save