Kiosk Solutions & Presentation Software
Busy public spaces equal an incredible real estate window display opportunity for listings and banner level appeal. Whether you choose to man the kiosk for face to face support or set it and forget it doesn't make a difference to the hard working kiosk. It takes a licking and keeps on ticking. Unlike human agents the kiosk doesn't need continual self-reassurance nor does it need to leave 15 minutes early for its kid's softball game. No. the Kiosk will be there until long after closing on Christmas Eve because it has a job to do and it won't rest until it gets that job done. The kiosk will provide you thankless leads time and time again into the wee hours of the night if you choose. If you're looking for your dream robot agent then EstateVue can talk options with you.
Request a Quote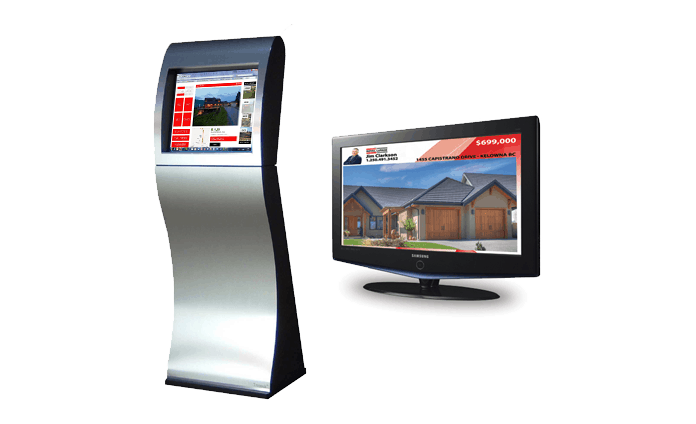 Here's What You'll be Getting:
Incredibly Modern Kiosk System
Access to IDX / Real Estate Data
Advertising Control Through Ad Portal
Digital Advertising with EV Touch
EstateVue real estate kiosks / EV Touch are the first of their kind in North America.  They're the only customizable real estate kiosk solution you'll find that incorporates all the bells and whistles of easy listings searches, lead generation and advertising opportunity.
We can finally say that we've put all of your concerns, wishes, wants and needs into one easy-to-use, sexy little package: EstateVue real estate kiosks. EstateVue offers kiosk solutions for every level of the real estate game.
We have interactive touch screen options perfect for single or multiple use within shopping malls, airports or busy lobbies.  We also have TV presentation options great for boardrooms, signing rooms and anywhere you need to attract traffic.
Our real estate kiosk solutions also provide an amazing opportunity for forward thinking, green brokerages to do away with costly, time consuming paper listings.  Your windows will thank you for it!
If you're an of the minute agent or a broker, then you need to get it all in one place with EstateVue real estate window display. Don't waste your time shopping around for out of date technology. We have it all under one roof.
We have great leasing programs in place to get you up and running quickly. Talk to us now to get started or look into purchasing our plugin here.
Save