EstateVue is proud to announce the new release of the QR Code feature!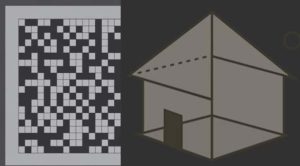 Although still a quite unfamiliar term to many people, the QR code itself is quite recognizable; you've probably seen it before.What many of you might not realize is that this square-shaped symbol can be a marketing powerhouse for your business.
It has already busted a technological move all over brokerages on the top of their game. Why? Because it makes information more instant, available anywhere, and ridiculously easy to find. The 'Quick Response' Code is compatible with any web-enabled phone, so for the majority of working professionals toting a Blackberry, iPhone, or any other smartphone device under the sun, this is a useful feature.Here we'll tell you exactly how you can incorporate QR codes into your business, and get maximum traffic to your listings and website.
First things first, how it works. The 'Quick Response' technology allows users to scan the code with their phones and be directed to a specific webpage or link associated with that code. See the potential? When brokerages and agents use these codes in their print marketing, the traffic to their website has the potential to skyrocket. Here are a few examples of uses:
Business cards
Name, Phone Number, Email Address, Website… it's the same template for everyone.
The marketing business is all about setting yourself apart, and in real estate that is a very important task. The presence of a QR code on your business card can link potential and current clients to a welcome video or any other extra footage to make you memorable. It's like granting them special access to something special about you, which can help them get to know you better and foster a strong client-realtor relationship. The potential with this is greater than anything else you could possibly fit on your business card. Plus, how cutting-edge would you look toting your own QR code?
Brochures
Whether you've had them made for yourself or a particular listing, brochures can be given an extra boost with a QR code conveniently placed for more information right on the spot. You can link users to a photo gallery or 360° tour of the home(s) featured on your handout.
Signs: Okay this is the really exciting one. When you've staked your 'for sale' sign in front of a property, a QR code on the sign itself can direct all the interested passerby right to your website or secret webpage. Give them the information they want to know, and the pics and vids they wanna see while they're standing on the property they might possibly place an offer on someday.There is actually an endless list of possibilities no one has even thought of yet, but you get the point. Print marketing is an essential tool in the world of marketing, but the QR code allows you to step up your game and thrust users into another realm. A flashy flyer might generate interest, but extra footage from a QR code could hit the point home and give you an extra punch. Talk with us about some creative ways of posting QR codes, we love the way Jimmy Fallon did it (note: keep your eye out at 3:46) We'd love to get our QR codes tattooed on supermodels, but we'd have to look into the legality of that first, we'll let you know. We are one of the first providers of this feature, so ask EstateVue about getting your QR codes set up for all your print (and tattoo) marketing.