Syncro Web Chat
Opportunity Texts!
Chat seamlessly with people visiting your website via your mobile device no matter where you are. Leads coming from your web chat tool are now instantly funneled via text message to your phone in real time. This all adds up to you selling more and building customer relationships one text at a time.
Want to know more about SYNCRO?
Window Active
The future is right under our noses and we didn't even see it coming. Huh? That's right it's right under your nose, or rather in front of your eyes in the form of your office window. What if we told you that your office window could not only catapult you into the stratosphere for modern technology office applications but it could also improve your bottom line? The ROI is an easy sell with advertising options available to the broker, but the wow factor is virtually guaranteed on every solution that goes out the door. When listings from your data feed are seamlessly searched on your 20ft storefront window that faces the busiest street in town you can't ask for a showier presentation.
Want to know more about Window Active?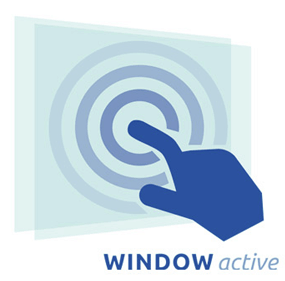 Save